The following document was obtained from the website of Monroe-Livingston Region EMS (MLREMS).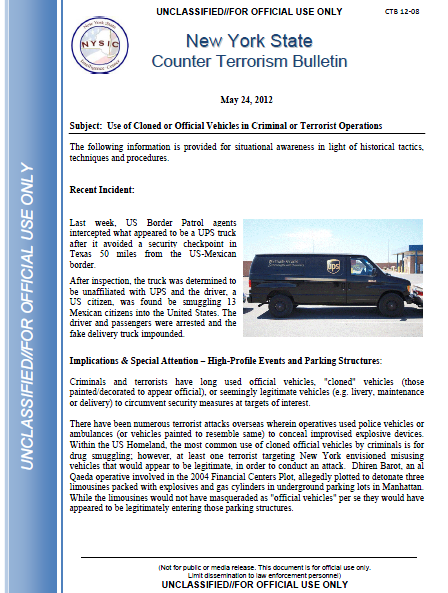 New York State Counter Terrorism Bulletin
2 pages
For Official Use Only
May 24, 2012

Criminals and terrorists have long used official vehicles, "cloned" vehicles (those painted/decorated to appear official), or seemingly legitimate vehicles (e.g. livery, maintenance or delivery) to circumvent security measures at targets of interest.

There have been numerous terrorist attacks overseas wherein operatives used police vehicles or ambulances (or vehicles painted to resemble same) to conceal improvised explosive devices. Within the US Homeland, the most common use of cloned official vehicles by criminals is for drug smuggling; however, at least one terrorist targeting New York envisioned misusing vehicles that would appear to be legitimate, in order to conduct an attack. Dhiren Barot, an al Qaeda operative involved in the 2004 Financial Centers Plot, allegedly plotted to detonate three limousines packed with explosives and gas cylinders in underground parking lots in Manhattan. While the limousines would not have masqueraded as "official vehicles" per se they would have appeared to be legitimately entering those parking structures.

Law enforcement officials and the general public should remain alert to potential fake or cloned official vehicles, with special attention near high-profile targets and mass gatherings at special events, such as upcoming Memorial Day and 4th of July holiday parades and celebrations, or large sporting events scheduled this summer across the State. These events provide the opportunity for terrorists to inflict mass casualties and evade detection by blending into large crowds.

Officials should also be mindful of locations where official vehicles may gain exclusive access, such as parking garages or loading docks proximate to potential targets of interest. Officials at such locations should know how to verify markings on any official vehicles likely to be present. Law enforcement outreach to security staff at these locations during routine patrols is encouraged.
Share this: