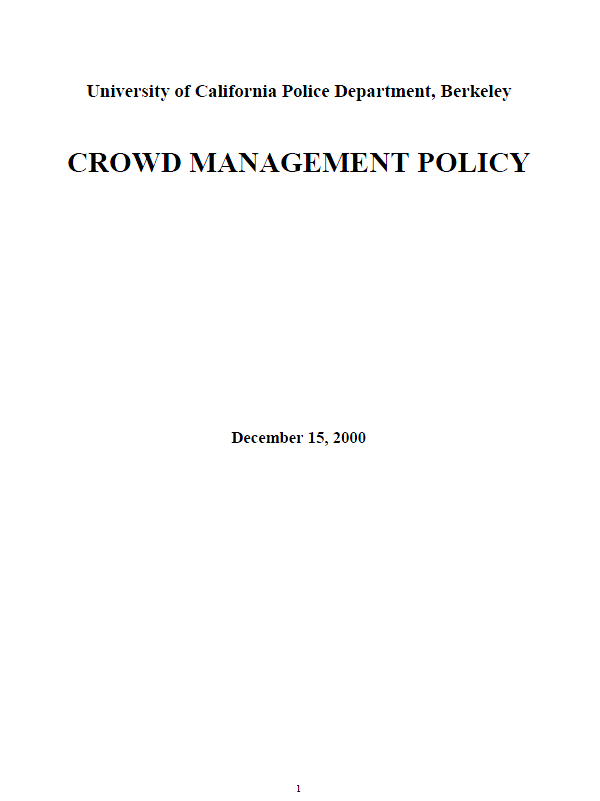 University of California Police Department, Berkeley
18 pages
December 15, 2000

This Policy is to provide an outline of basic steps to be taken and/or considered by UCPD in the management of campus demonstrations. It is recognized that no policy can completely cover every possible situation and thus we rely on the expertise of the commanders and supervisors to manage the situation utilizing this policy as a guideline. This policy is primarily intended to cover demonstrations on campus and involving primarily University affiliates but many of the elements are applicable to any demonstration. "Demonstration", for the purposes of this policy, includes a broad range of gatherings. Generally they are events with a significant crowd intending to express a particular point of view to others, often "The University", and often through highly visible and possibly disruptive means. They are distinguished from peaceful meetings but may spring from them.

PHILOSOPHY

The University and UCPD recognize the rights of all individuals to assemble and speak freely, as guaranteed by the First Amendment of the United States Constitution and the California State Constitution, and will actively protect those rights. The rights all people have to march, demonstrate, protest, rally or perform other First Amendment activities come with the responsibility to not abuse or violate the civil and property rights of others. The University has a right to continue normal business without disruption and all members of our community have the right to go about their business freely and safely. At times these rights result in competing interests which must be resolved. Toward this end, the University has established "time, place and manner" rules that should be used as guidelines. Only certain specific areas on campus are designated as forums for public expression.

The responsibility of UCPD is to protect the lives, property and rights of all people and to enforce the law. Personal safety is of primary importance for participants, non-participants and those who must be present by virtue of their positions (including Police Officers). Security of University facilities and continuation of normal business are also priorities.

When it becomes necessary to manage the actions of a crowd that constitutes an unlawful assembly or has committed other violations of law or University rules, the commitment and responsibility of law enforcement is to manage it lawfully, efficiently, and with minimal impact on the community. A variety of techniques and tactics may be necessary to resolve such an incident. Only that force which is reasonable may be used to arrest violators and/or restore order. Participants are expected to realize their obligation to comply with the lawful orders of police officers and to submit when arrested.

…

MASS ARRESTS:

When it becomes necessary to make arrests of numerous individuals over a relatively short period of time the OIC/Overall Commander should ensure that:

• The area is contained and the violators isolated.
• Personnel understand whether someone may leave the area and under what conditions.
• The proper dispersal order is read outlining the unlawful assembly, other committed violations, and the dispersal route.
• An arresting/reporting officer is assigned.
• An arrest team is designated to take custody of the demonstrators.
• All arrests are done in accordance with policies, procedures, and training. The use of various types of arrest techniques should be based upon the type of resistance presented as well as the exigency of the situation.
• All arrested prisoners are searched, photographed, and properly identified.
• A decision is made as to how prisoners will be processed, i.e. field cited (on-site or off site) or transported to Berkeley Jail or Santa Rita Jail for booking; and whether protesters will be subject to 626 PC (626.4 for students/626.6 for others).
• If a significant number of students will be arrested, Office of Student Conduct representatives are requested to consider delivering Student Conduct violation notices at the booking station as appropriate.
• An adequate secure area is designated in the field for holding arrestees for the booking process or after the initial booking process while awaiting transportation.
• An adequate number of vehicles are made available to remove the arrestees to the detention center/jail.
• All injured prisoners are provided medical attention as appropriate prior to being incarcerated.
• All arrested juveniles are handled in accordance with the Department's procedures for arrest, transportation, and detention of juveniles (GO-B3).
• All evidence and weapons taken from arrestees are processed in accordance with the department's policy on the preservation and custody of evidence (GO-P1).
Share this: