China has long known about nuclear high-altitude electromagnetic pulse (HEMP) and invested in protecting military forces and critical infrastructures from HEMP and other nuclear weapon effects during the Cold War, and continuing today. China has HEMP simulators and defensive and offensive programs that are almost certainly more robust than any in the United States. China's military doctrine regards nuclear HEMP attack as an extension of information or cyber warfare, and deserving highest priority as the most likely kind of future warfare.
Chinese military writings are replete with references to making HEMP attacks against the United States as a means of prevailing in war. The foremost People's Liberation Army textbook on information warfare, Shen Weiguang's World War, the Third World War—Total Information Warfare, explicitly calls upon China to be prepared to exploit HEMP offensively—and to defend against it:
With their massive destructiveness, long-range nuclear weapons have combined with highly sophisticated information technology and information warfare under nuclear deterrence….Information war and traditional war have one thing in common, namely that the country which possesses the critical weapons such as atomic bombs will have 'first strike' and 'second-strike retaliation' capabilities….As soon as its computer networks come under attack and are destroyed, the country will slip into a state of paralysis and the lives of its people will ground to a halt. Therefore, China should focus on measures to counter computer viruses, nuclear electromagnetic pulse…and quickly achieve breakthroughs in those technologies in order to equip China without delay with equivalent deterrence that will enable it to stand up to the military powers in the information age and neutralize and check the deterrence of Western powers, including the United States."
China's military doctrine closely associates cyber-attacks with nuclear HEMP attack, as part of a combined operation in what they call Total Information Warfare. Cyber bugs and hacking are the tip of the spear, the functional equivalent of scouts and sappers who do reconnaissance and secretly prepare the beaches for the arrival of D-Day, or like the motorcycle troops that preceded the heavy armored divisions in Germany's Blitzkrieg.
…
HEMP appears to be the key to victory in China's military doctrine against U.S. aircraft carriers and Taiwan. For example, from the official newspaper of the Shanghai Communist Party Central Committee:
"The weak points of a modern aircraft carrier are: 1) As a big target, the fleet is easy for a satellite to reconnoiter and locate it, and for missiles to conduct saturation attacks; 2) A high degree of electronization is like an 'Achilles' heel' for an aircraft carrier fleet, which relies heavily on electronic equipment as its central nervous system. These two characteristics determine one tactic…Electromagnetic pulse bombs (missiles) bear the characteristics that meet those requirements: 1) The strong magnetic field and electromagnetic pulse caused by an explosion can destroy all important integrated circuits and chips…thus paralyzing the radar and telecommunications system of the aircraft carrier and vessels around it as well as the ship-mounted missiles and aircraft. 2) The scope of demolition and effective action are wide, reaching dozens of kilometers. 3) The equipment is damaged without casualties. 4) An electromagnetic pulse bomb…does not have to hit the aircraft carrier but only needs to explode within dozens of kilometers around the aircraft carrier…As long as an electromagnetic pulse bomb can successfully explode, an aircraft carrier will be paralyzed. 5) If the central nervous system of an aircraft carrier is paralyzed, even a comparatively backward naval vessel or aircraft…will be able to aim at the aircraft carrier as a conventional target, thereby thoroughly changing the balance between the strong and the weak."
"The possession of electromagnetic pulse bombs (missiles) will provide the conditions to completely destroy an aircraft carrier fleet, and the way to complete victory in dealing with aircraft carrier fleets," according to "Using A-Bomb To Deal With Aircraft Carrier."
…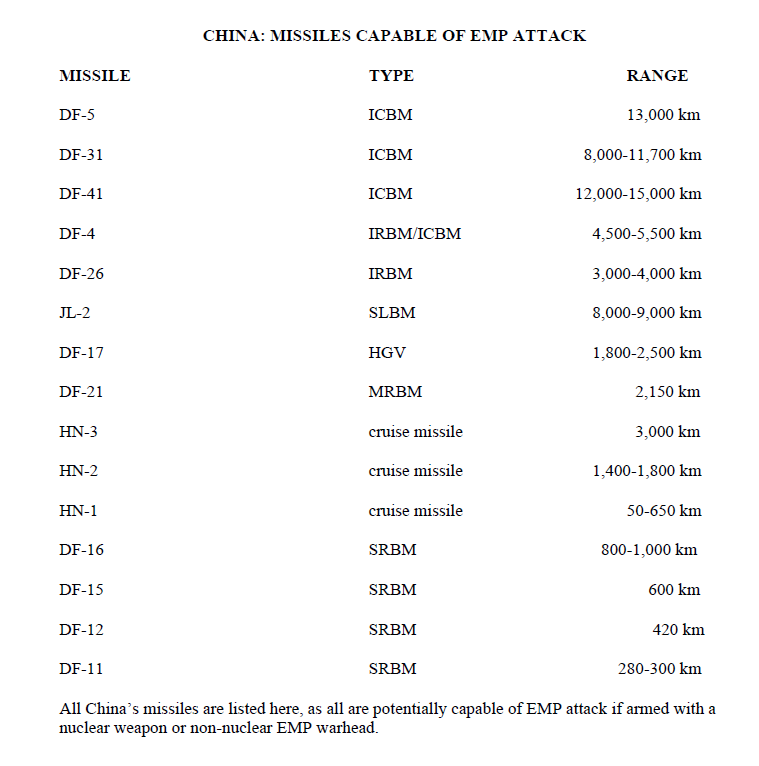 Share this: